You can support the Sky School! We depend on philanthropy to continue to deliver world-class outreach and education programs. Your contributions can help purchase equipment, underwrite K-12 student participation at the Sky School, improve facilities, and provide support for graduate student instructor stipends. For many of our public-school students, their Sky School experience is their first visit to public federal land, their first experience hiking, or their first chance to interact with or see themselves as professional scientists and researchers.
Online giving
American Express, Visa, MasterCard or Discover are accepted on the University of Arizona Foundation's secure site. Click here to donate now, and be sure to write 'Sky School' in the comments field. You will receive an e-mail confirmation of your gift, followed by a printed acknowledgement by mail. You can also arrange for a multi-year pledge or a recurring gift. Please feel free to email us directly to notify us of your gift!
Giving by check
Donations can be made by check, made payable to UA Foundation – Sky School. Checks can be mailed to us at 933 N. Cherry Ave., Tucson, AZ 85721.
Sponsor an overnight program for a student:
Your gift of $250 can fully sponsor a two-day one-night experience for one student. They will be closely mentored by one of our graduate instructors, explore the biology and geology of all the major elevation zones of the sky islands, observe the night sky with our large public telescope, and explore the summit of Mt. Lemmon.
Sponsor a weeklong program for a student:
Your gift of $500 can sponsor a four-day three-night experience for one student. They will be closely mentored by one of our graduate instructors, carry out their own multi-day scientific investigation, explore a range of ecology, astronomy, geology, and wildlife biology concepts in a beautiful outdoor setting, observe the night sky with our large public telescope, and hike all around Mt. Lemmon.
Sponsor a school's visit to Sky School:
Your gift of $3000 can sponsor a complete overnight program for 24 elementary students and a teacher from a high-need (Title I eligible) school group. Your contribution will be able to cover transportation expenses from the school, as well as all program expenses and materials.
Sponsor a graduate instructor:
Your gift of $4500 can sponsor the annual fellowship for one of our graduate instructors. We recruit only the most thoughtful and most passionate students from the University of Arizona's MS and PhD programs. Your contribution will support over 20 full days and nights of teaching on Mt. Lemmon, as well as their leadership in a range of public educational programs.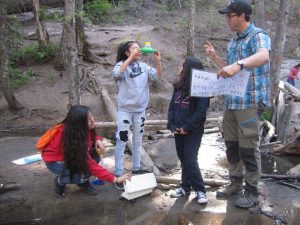 Other ways to contribute
Obtain a $200 to $400 tax credit at no cost to yourself
You can obtain a tax credit by supporting an Arizona public school whose students attend Sky School program. Credits are $200 for single filers and $400 for married / filing jointly (file AZ Form 322). Currently eligible schools include:
Gifts of Stock and Securities
Gifts of appreciated assets, rather than cash, can be made to Steward Observatory and may provide special tax advantages to you, the donor. Giving appreciated stocks, bonds, or mutual funds can allow for the avoidance of capital gains taxes and, in most cases, a charitable deduction for the full fair market value of the donation. To learn more about these types of gifts, please contact Ruth McCutcheon, Director of Development, 520-621-7890 or mccutcheon@email.arizona.edu.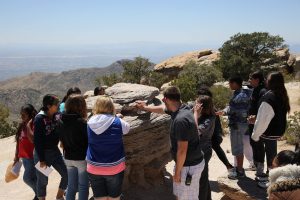 Matching Gifts
Your employer or your spouse's employer may offer a program that matches charitable gifts. Matching gifts can double or even triple your gift to the Steward Observatory. To initiate a matching gift, complete your and/or your spouse's employer's matching gift form and send it along with your donation.