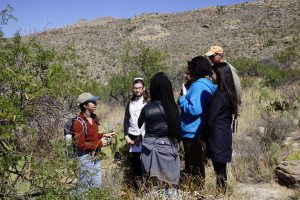 Seeking Undergraduate Field Study Mentors: UA Science: Sky School's Research Apprenticeship Program
Connecting UA undergraduate students with graduate student mentors and middle and high school mentees
 UA Science: Sky School is seeking individuals excited to engage with youth in science. We are recruiting undergraduate Field Study Mentors to work with students in grades 8-12 to develop and execute field-based research projects for the regional science fair, run by the Southern Arizona Research, Science, and Engineering Foundation (SARSEF). This is a unique opportunity to gain experience with science education and communication. Training will be provided for effective mentoring of students, along with support throughout the mentoring process and feedback to mentors on improving facilitation, teaching, and scientific process skills.
Mentors will benefit by:
Improving their ability to conduct a field research project, communicate scientific information and model science-related career skills
Enhancing their ability to inspire, engage, and educate youth in STEM
Building their organizational skills while helping mentees conduct their projects
Gaining experience engaging with local environments and land managers
Developing a better 'sense of place' of the Tucson region, with particular attention to the natural and cultural history of the region
Earning an 'Engaged Learning Experience' notation on their academic transcript and potentially academic credit

UA Mentor Commitments, 2016-17 school year
August-September, 2016
·       Pass background check and register fingerprints with UAPD
September, 2016
·       Attend mandatory training event on Mt. Lemmon* (Sept 24-25, Sat-Sun) and other trainings on campus TBD
October-December, 2016
·       Mandatory!—Explore field sites October 1st & October 8th or 9th *

·       Meet with student after school to write up project proposal

·       Field visits to collect data*. These will be on weekends and you must attend a minimum of 4 days, 8:30 am – 3 pm, TBD with your student.

(October 22, 23, 29, 30; November 5, 6, 19, 20; December 3, 4)

January-March, 2017
·       Meet with student on weekends or after school to do data analysis and create your presentation for SARSEF (schedule TBD)
March-April, 2017
·       Research presented at SARSEF (March 29-April 1)

·       Poster displayed at UA and/or Sabino Canyon Visitor Center

April-May, 2017
·       Opportunities to assist with Sky School programs on Mt. Lemmon or with other outreach programs
*All visits to field sites will occur on weekend dates, transportation will be provided from campus.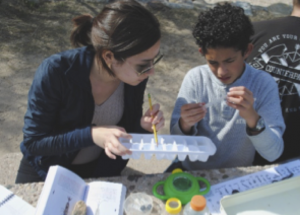 Application Process E-mail applications to Rebecca Lipson at rlipson@email.arizona.edu. Applications will be reviewed as they are received, with final decisions by September 16th, 2016. Please include:
Brief statement of interest, explaining your prior experience and qualifications, as well as your desired personal outcomes for the experience (one page limit)
CV or résumé, including any relevant experience with mentoring, education and outreach, outdoor activities, or research
Letter of support from an advisor, professor, or other person familiar with your work (preferred and can be sent under separate cover) –OR- references to contact listed on your CV/ résumé